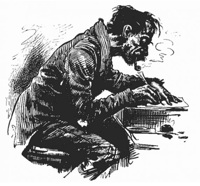 We are looking for a freelance English editor (4 hours per week).

As we have quite ambitious plans with Chatbots.org, we need an enthusiastic native English editor to edit text and write new articles who can grow with us to facilitate the fast growing community of chatbot developers, affiliate industry and users.
It's not a 'sit-back and relax' kind of job; we'll certainly value your input!
This would be our ideal partner in crime:
Native English speaker with a strong personal interest in writing stylish English.
background in AI, marketing or communications
Smart: you're probably working on your Masters.
Flexible yet precise: You'll need to find a quality balance between correcting news items, articles (with a due-by date of a few weeks), thorough research and static texts that will be read by thousands of readers.
Fast: Normally we'll need your correction within a few days.
Tech savvy: You'll be making your changes directly in the content management system, so you shouldn't be afraid of a few HTML hyperlinks.
You can be based in any country in the world, so this job is indeed quite flexible. We expect to need your support several hours per week but we anticipate much more work in the near future (up to 10 hours per week in the beginning of 2010).
Please contact Erwin Van Lun for more information or to apply immediately.
We really look forward to your application!