Chatterbots are artificial intelligent virtual characters which are used in typed channels to simulate interaction with a real human. This term is outdated and has hardly been used.
Typical usage
The first prototype of a Chatterbot, repeatedly cited in all artificial intelligence archives, was famous ELIZA, built in 1966 by Joseph Weizenbaum, an MIT researcher. ELIZA simulated a consultation with a psychotherapist, involving the patient in a conversation. ELIZA only simulated intelligent conversation, but she proved to be incredibly effective in focusing attention and maintaining conversations with people as a program-psychotherapist. You can still talk to ELIZA on the Internet, as shown on this online dialog box picture below.[1]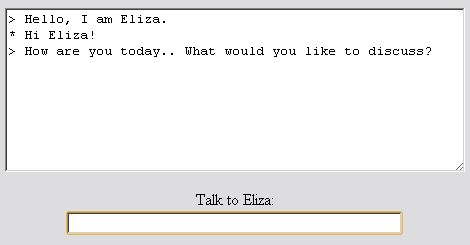 ELIZA's success contributed to the continued research and development of Chatterbots. Nowadays, the term chatterbot is used only occasionally, typically by programmers who just entered the AI field and who would like to build their own artificial entity. After a while, most of them will switch to chatbot, chat bot or virtual agent. Sometimes, they also make use of the term virtual human, virtual assistant or avatar, dependent on their specialisation. You might check out our directory for AI entities using the chatterbot synonym.
Background
The term Chatterbot consists of two words: chatter and bot.
To chatter originates from early XIII century - in Middle English chateren, of imitative origin, meant "to twitter, gossip", earlier cheateren and chiteren.[2]
The word robot is derived from the Czech noun robota meaning "labor", and is an accomplishment of the cubist painter and writer Josef Capek, older brother of novelist and playwright Karel Capek. The word robot first appeared in 1920 in the Karel Capek's play "RUR" ("Rossum's Universal Robots") and since then this play popularized the word invented by playwright's brother.[3]
The word bot, in Internet sense, is a short for robot and originates from XX century. The modern use of the word bot has curious affinities with earlier uses, e.g. "parasitical worm or maggot" (1520s), of unknown origin; and Australian-New Zealand slang "worthless, troublesome person" (World War I -era). The method of minting new slang by clipping the heads off respectable words does not seem to be old or widespread in English. Examples: za from pizza, zels from pretzels, rents from parents, are American English student or teen slang and seem to date back no further than late 1960s.[4]
The word Chatterbot was introduced by Michael Mauldin in 1994 in his paper ChatterBots, TinyMuds, and the Turing Test: Entering the Loebner Prize Competition.
Examples of Chatterbots
Chatterbot pages
Although we use chatbot as the main synonym on this website, please do not be confused. There are more than 161 synonyms in use by academics, business and chatterbot enthusiasts! It is simply a matter of reading between the lines.

Please check out our main directory with 1376 live chatterbot examples (an overview as maintained by developers themselves), our vendor listing with 253 chatterbot companies and chatterbot news section with already more than 368 articles! Our research tab contains lots of papers on chatterbots, 1,166 journals on chatterbots and 390 books on chatterbots. This research section also shows which universities are active in the chatterbot field, indicates which publishers are publishing journals on humanlike conversational AI and informs about academic events on chatterbots. Also, check out our dedicated tab for awards, contest and games related to the chatterbot field, various forums like our AI forum by chatterbot enthusiasts and add any chatterbot as created by yourself and your colleagues to our chatterbot directory. Please do not forget to register to join us in these exciting times.

A selection of pages on this website using 'chatterbot':
Alternative usage of Chatterbots
Chatterbot is also a product name of toy manufacturer WooWee. Their chatterbots are computer connected character toys responding to people's activities on their computers. They always have something to say about what you are up to - and it is not always appropriate! Each chatterbot features a unique personality and a signature animation and entertains you with its unpredictable stream of jokes, dialog, and comments about your virtual life.