The term Virtual People signifies a chatbot equipped with graphical representation of a 3-dimensional human body.
Typical usage
Among many examples of Virtual People, Emily is a special one. She is considered to be one of the first photo realistic animations in real-time. She is giving an interview about computer generated animation and her creator, Image Metrics!
Emily - the woman in the above animation - was produced using a new modelling technology that enables the most minute details of a facial expression to be captured and recreated. To get more insight in this technology, read an interesting article Lifelike animation heralds new era for computer games written by The Times journalist Jonathan Richards.
Examples of Virtual People, presented on the picture, can be found in the gallery created by Gravity Design Studios. All of these characters are entirely configurable - whether it be hair style, color, eye color, makeup options, face shape, different facial features, expressions, and lighting.

Other Virtual People examples, created by Ocean's, are interactive projections, which provide the sensation of a hologram.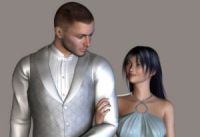 Typical usage of Virtual People relates to virtual worlds embedded online or within PC-games. This picture shows an example of Virtual People appearing in a VirtualPeople.net.
Another picture of Virtual People characters originates from the American virtual world Kaneva, released in 2006.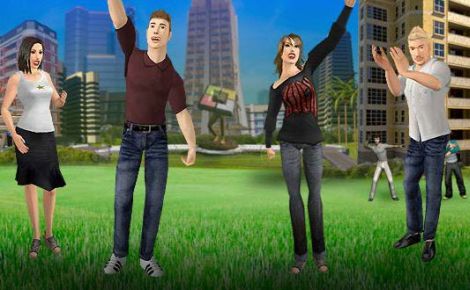 Online Virtual People are created by various human users, irrespective of their age, education or gender. You do not have to be a professional to be able to create Virtual People. Peter Plantec, a consultant in virtual human design and animation, has gathered several Virtual People in a small gallery of online Virtual People. Have a chat with some of these Virtual People!
The term Virtual People is typically used by graphic designers modelling the virtual human body or by computer scientists - as a synonym for chatbot. It is also used by researchers from the fields of human-human and human-robot interaction referring to the term intelligent virtual agents.
Intelligent Virtual Agents Conference is an interdisciplinary annual conference and the main forum for presenting research on modelling, developing and evaluating intelligent virtual agents. During IVA-09 a member of the Virtual Experiences Research Group, Brent Rossen, presented publication on human-centered conversational modelling and an experimental program aimed at using Virtual People for education. The following video describes the Virtual People Factory application in more detail.
Background
The term Virtual People is a composite of two words: virtual and people.
Since late XIV century, the word virtual has been depicted as "influencing by physical virtues or capabilities" from Latin virtualis, virtus - "excellence, potency, efficacy". The meaning of "being something in essence or fact, though not in name" is first recorded in 1650s, probably via sense of "capable of producing a certain effect". Computer sense of "not physically existing but made to appear by software" is attested from 1959.[1]
The word people dates back to late XIII century, meaning "humans, persons in general" from Latin populus. Replaced native folk. Meaning "body of persons comprising a community" was first recorded in late XIII century in Anglo-French; meaning "common people, masses" (as distinguished from the nobility), was first recorded in1300 in Anglo-French. Legal phrase The People vs., in U.S. cases of prosecution under certain laws, dates from 1801. The word was adopted after 1920 by Communist totalitarian states to give a spurious sense of populism to their governments.[2]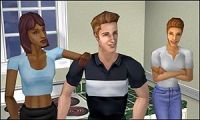 The first appearance of the term Virtual People was in late 1990s and connected to the notion of virtual worlds available on the Internet since then. An example of a domestic moment in the life of a virtual family of Sims is presented on their virtual photo.[3]
Virtual People pages
Although we use chatbot as the main synonym on this website, please do not be confused. There are more than 161 synonyms in use by academics, business and virtual people enthusiasts! It is simply a matter of reading between the lines.

Please check out our main directory with 1376 live virtual people examples (an overview as maintained by developers themselves), our vendor listing with 253 virtual people companies and virtual people news section with already more than 368 articles! Our research tab contains lots of papers on virtual people, 1,166 journals on virtual people and 390 books on virtual people. This research section also shows which universities are active in the virtual people field, indicates which publishers are publishing journals on humanlike conversational AI and informs about academic events on virtual people. Also, check out our dedicated tab for awards, contest and games related to the virtual people field, various forums like our AI forum by virtual people enthusiasts and add any virtual people as created by yourself and your colleagues to our virtual people directory. Please do not forget to register to join us in these exciting times.

A selection of pages on this website using 'virtual people':
Alternative usage of Virtual People
The term Virtual People is alternatively used to describe people who assist other people remotely, via Internet. Sometimes, they are also called virtual assistants.[4]