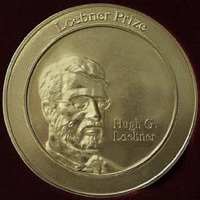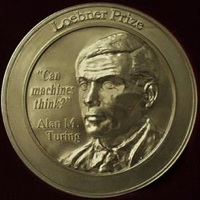 The Loebner Prize for artificial intelligence ( AI ) is the first formal instantiation of a Turing Test.
In 1990 Hugh Loebner agreed with The Cambridge Center for Behavioral Studies to underwrite a contest designed to implement the Turing Test. Dr. Loebner pledged a Grand Prize of $100,000 and a Gold Medal (pictured above) for the first computer whose responses were indistinguishable from a human's. Such a computer can be said "to think." Each year an annual prize of $2000 and a bronze medal is awarded to the most human-like computer. The winner of the annual contest is the best entry relative to other entries that year, irrespective of how good it is in an absolute sense.
Further information on the development of the Loebner Prize and the reasons for its existence is available in Loebner's article In Response to the article Lessons from a Restricted Turing Test by Stuart Shieber.
The Loebner Prize is made possible by funding from Crown Industries, Inc., of East Orange NJ.
Crowd Control Stanchions used at Loebner Prize competition are provided by Crown Industries' crowd control stanchion division.