ASDA is a British supermarket chain that was bought by Wal-Mart (World's largest retailer) in 1999. There are hundreds of thousands of ASDA customers shopping at 243 ASDA supermarkets around the UK. In early 2009 ASDA began the migration of its online shopping service to a new platform and were looking for a solution to make the transition as easy as possible for their customers.
The Challenge
ASDA required a web self-service solution that would perform the following:
Help returning customers understand the new elements of the new platform
Help with the actual shopping process
Ensure that any complaints ranging from placing orders, delivery, missing items and product quality would be fielded appropriately
Decrease the number of emails and phone calls going through to the call centres
The Solution
After extensive research, ASDA decided that Creative Virtual's virtual assistant solution was the best way to address all of those goals.
Starting with a list of 250 FAQs, the Creative Virtual team began to assemble a knowledgebase for Ask ASDA. Questions requiring more information to establish an answer were developed into decision trees. For example, if asked "Why can't I checkout?" the system will take the user through a series of questions to determine the exact nature of the issue.
Creative Virtual worked closely with the ASDA team and our partner KMP Digitata to develop the best layout for the Ask ASDA template during the initial development phase and during subsequent changes and updates. The current layout has been designed to be very user friendly and reflect the company branding.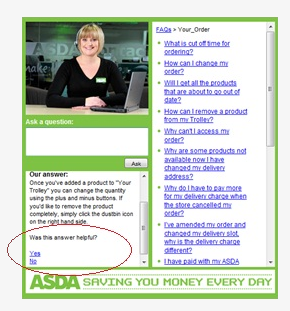 Another addition to the V-Person™ system has been the implementation of the In Conversation Survey (ICS). This feature allows users to leave immediate and specific feedback about the helpfulness of answers by presenting the survey in a more direct way. ICS responses are compiled into reports to give general and specific summaries and statistics about the information gathered.
The Result
Ask ASDA went live on 22nd July 2009 and was an immediate hit with website users, recording 5,000 conversations on the very first day! The implementation now fields 17,000 - 20,000 conversations every week.
The V-Person was introduced to all registered online shoppers by email and can now be accessed through a link at the bottom of the page at any point during the shopping experience.
The V-Person reporting system means that ASDA now has real-time data not just on clicks but on their customers, what they are asking for, and the questions they raise during their journey through the website. This information is used to constantly improve the customer's online experience.
Ask ASDA can be found through http://www.chatbots.org/virtual_assistant/ask4/
Developed in partnership with KMP Digitata.
Related Chatbot:
Ask