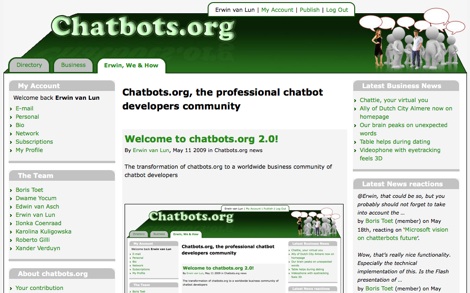 After months of hard work, we're delighted to announce the new version of chatbots.org, creating a, in our opinion, world-class community platform for professional chatbot developers. We're glad we've managed to implement so many wishes of chatbot developers world wide and we've added lots of functionality that we believe advances the chatbot community across the world.

Please read on about our tightened mission, the new functionality, new content, the history, the community, the future, and how your participation could help you create success, learn and get in touch with professional partners.
Mission
Here's the new mission statement of chatbots.org:
To be the leading community
for chatbot developers, users and affiliate industry
on research, technology and innovation,
driving commercial success for all participants.
Definitions
In our definition a chatbot is an artificial living entity designed to have conversations with real human beings. That can be a text conversation via computers, a spoken conversation or even a non-verbal conversation.
Chatbots can be found on screens, in the virtual world, but also in the real world, projected (with holographic projection, for example) or as physically talking and responding puppets, toys and robots.
The worldwide chatbot community doesn't yet have consensus on what terminology to use to address chatbots. Synonyms are virtual agents, interactive virtual agents (IVA), brand agents, branded agents, virtual assistants, virtual employees, conversational agents, embodied conversational agents (ECA), chatterbots, chatterbox or chat bots. Additionally there are a lot of local assumptions on the usage of the terms. We strongly believe that the chatbot community should collaborate worldwide to standardize terminology that will professionalize the market. Chatbots.org is willing to facilitate this discussion. We'll use the term 'chatbot' in the rest of this document.
Chatbot developers are by definition companies or individuals responsible for the user experience, including avatars, voice and textual responses. Chatbot developers typically co-operate with many other specialists, for example in the areas of design, voice technology, knowledge management, call center routing and holographic projection. We'll refer to these industries as affiliates.
Functionality
We've added:
Three tabs. We've moved the chatbot directory to the Directory tab and introduced the tab 'business' and the community tab 'We, Why & How'.
Advanced chatbot classification. It's now possible for chatbot publishers to categorize chatbots in 'consumer themes' and 'characteristics'. The new categories appear in the left-hand sidebar. We've also added a sophisticated mechanism to cluster chatbots in a 'family', local variations or country implementations.
Business news. It's now possible to publish chatbot-related news on the website. By default, all chatbot publishers are allowed to write articles in this business tab. We've added an extra RSS feed, a Twitter feed, an archive, a commenting system and the ability to forward, share, tweet or print the articles.
Tagcloud: the most important terms used in the business tab will be shown in this interactive tagcloud. To be fair, this is just a gimmick. It's a nice gimmick, though.
Member profiles: visitors are now able to register, create a personal business profile and show their profile to the outside world. Profiles will appear on www.chatbots.org/experts/your_name (example). Members can choose to hide their profile as well.
Contact forms: it's possible to contact any individual member of the site via e-mail using a special form.
Search engine optimization: We've optimized all of our pages for search engines, focussing especially on the chatbot synonyms mentioned above.
Pseudo 3D header: The header of chatbots.org now has a 3D feel to it. We haven't spent a lot on this as we didn't on the animated favicon. Actually, to be fair, we've spend almost nothing, but in the future new financial streams will allow us to expand on this concept.
Commercial model
The commercial model of chatbots.org is still 'under construction'. However, in order to find a sustainable business model for Chatbots.org which allows us to continue our work, we're working on a sophisticated idea that includes sponsoring and affiliate marketing. We, the worldwide chatbot community, could also consider asking Chatbots.org to grow towards a world wide association of chatbot developers. Regardless of how the model will evolve, it will always be based on creating value for chatbot developers, users and affiliate industry. Value that should ultimately bring us some money in return.
In version 2.0, we've removed all advertising. This is because we strongly believe that advertising does not add value to our community. Additionally, a lot of chatbot developers spend money on Google Ads and we believe that the content on chatbots.org should drive users to the sites of these developers and not their advertising. Furthermore, the chatbot community could better spend money on developing the site in such a way that it adds value to them rather than sending it to Google and its shareholders. At last, we believe that chatbots represent the new era of automated business communication with individuals. Advertising was the automation of sending, but chatbots are strong listeners and will eventually fully replace advertising by brands. This vision is outlined in detail in the brand dialogue trend on erwinvanlun.com. We thought these three reasons were enough to remove the advertising.
In exceptional cases we do still show advertising. We still show advertisements in some search results. This is when the search term gives us a strong indication that chatbots.org could not deliver what the user is looking for. Advertising might then help them find a website that suits their needs.
We've had support of chatbot developers The Self Service Company and eCreation. With their help we've been able to spend time on the directory and find even more chatbots worldwide. We really appreciate their help. We'll continue to find partners that will improve our website.
The team
As we're working with many volunteers who sometimes spend hours a year, hours a month, hours a week, or even hours a day, it appears to be very hard to list 'the' team. However, we identified those who have contributed most to the site during the past year: Xander Verduyn, Roberto Gilli, Karolina Kuligowska, Boris Toet, Dwane Yocum, Edwin van Asch, Ilonka Coenraad, and all those hardworking chatbot developers maintaining their own chatbots.
History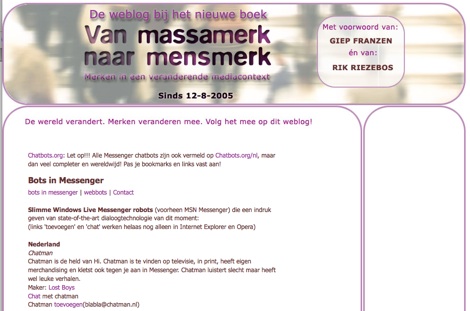 In January 2005, I launched mensmerk together with my first book Van Massamerk naar Mensmerk , which described the next ten years in media, marketing and brands. As the rise of brand agents was a key element of my vision described in this book and a lot of new (MSN Messenger) chatbots were launched in 2005, I decided to create a separate page, a listing of all chatbots in the Netherlands and a selection of chatbots worldwide. This page soon became the most popular page of the site.
When I launched the new version of Mensmerk.nl and its English equivalent in September 2007, I decided that although the chatbot pages didn't fit the new concept, I didn't want to get rid of this valuable page either and started to work on a new concept: chatbots.org.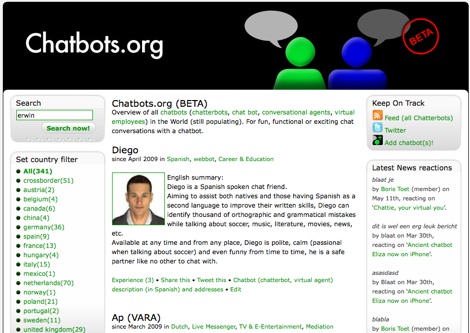 Chatbots.org had its soft launch in January 2008 and was finally launched in April that year.
I continued to work on the site where I made all technical modifications myself.
In February this year I realized that the current economic climate forces companies to reduce costs and that chatbots are therefore getting a lot of attention again, resilience so to say. That's why I started to work very hard on a business plan and I soon found my new partner Boris Toet of Score-Advertising who appeared to be a very talented sparring-partner in concept, technology and design.
And the result is awesome! Thanks again, Boris, for our teamwork!
Next steps
Although the new version is a great step forward for chatbots.org, it's only a small step for the chatbot revolution that is about to come. Therefore, chatbots.org will soon introduce new functionality, we'll work together with as much as chatbot community as possible, and we will improve our graphical design. We have many more ideas than those we've implemented right now. So subscribe to our RSS feed, Twitter feed or register to subscribe to our newsletter and we'll keep you posted!
Your contribution
The business tab is for any chatbot professional, professional affiliate or upcoming talent who'd love to write on this subject. Do you believe you can write interesting articles from a business point of view? Then you're invited to contribute to the community! Please don't hesitate to contact Erwin van Lun to find out how you could fit in.
Are you a professional designer and willing to help our design forward? Or are you a developer, a guru in building widgets, mobile apps or other innovative technology? We're really open to using innovative technology at chatbots.org, so please feel free to contact us in this case as well!
We're still looking for local chatbot warriors, the ultimate chatbot experts of their countries who can profile themselves through the country home pages www.chatbots.org/xx (for example: http://www.chatbots.org/pl). You'll help to make sure the chatbot directory for your country is complete. You'll be the first contact person for the press, the academic and the commercial world. Our search for local chatbot warriors continues until we've covered all countries in the world.
In any other cases, for an excellent idea, feedback on the site or simply to share thoughts, please don't hesitate to contact Erwin van Lun.
Chatbots.org is designed for you and only with your input and participation are we able to assist you even more in the future. And it's our mission to serve the chatbot community. It's our mission to serve you.