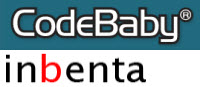 CodeBaby, a company whose award-winning digital characters are shaping the growing online self-service marketplace, today announced its partnership with inbenta, a leader in Natural Language Processing and Semantic Search. Recognizing the expanding market demand for self-service solutions, CodeBaby and inbenta have joined forces to deploy intelligent virtual assistants that increase online conversation rates and customer satisfaction.

The new alliance will deliver technologies through online assistance to web visitors via the CodeBaby Intelligent Virtual Assistant (CIVA) solution which provides digital characters that engage website visitors and seamlessly guides them through the online self-service experience. By driving interaction with the inbenta semantic engine – which incorporates technologies enabling intelligent interactions though its Natural Language Processing solution – visitors dramatically increase their ability to find the information they are seeking online, thereby improving the overall customer experience. This technology reduces operations costs for inbenta customers by diminishing the dependency on customer support professionals.
"A common complaint among web users is that self-service technologies often don't understand what they're seeking," said Dennis McGuire, CodeBaby CEO. "But inbenta's advanced search capabilities really work to resolve this problem. By integrating CodeBaby's strengths with inbenta's technology we will enable a more intelligent website engagement for consumers and thus, better results for our customers."
In addition to reducing the dependency on customer support, the digital characters serve as brand representatives to influence desired online customer behavior.
Speaking on the evolution of self-service technology, inbenta CEO Jordi Torras said, "This partnership is the result of the best of two technologies: one that humanizes the internet and one that interacts more intuitively with human queries and commands. Through years of determination, inbenta has now created a product that responds to searches as questions or statements, not limiting web users to keywords."