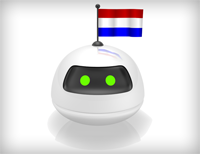 Creative Virtual Ltd has announced the official opening of their newest office in the Netherlands. Creative Virtual Netherlands, based in Amsterdam, will provide local support throughout Benelux for customers implementing Creative Virtual's V-Person™ technology. A V-Person (Virtual Assistant) is capable of holding conversations with digital users in real time, 24/7. For users this means the sensation of communicating with a 'real' person able not only to answer their questions, but also to understand the context of those questions and even hold entire conversations.
"Companies are overwhelmed by the number of ways customers use to communicate," observes Erik Braun, one of the directors of Creative Virtual Netherlands. "Some channels are owned by the company themselves while others are not. How to keep track of the intent of all these users on all these channels at a reasonable cost—that is one of the challenges companies face. V-Person can, and will, play a valuable role in this development. We are here to help clients to have access to this technology in the Netherlands and Benelux."
Creative Virtual's V-Person solutions are over 90% accurate and provide up to 50% call deflection. They can be implemented as a customer service representative, product specialist, sales person, entertainer or a combination of these roles to meet the specific needs of a company. With the ability to integrate this technology with Live Chat, secure log-in areas, community forums and social media channels, organisations can provide their customers with a customised and complete self-service experience.
Chris Ezekiel, Founder & CEO of Creative Virtual, is looking forward to bringing the company's expertise and experience to the Netherlands. "We are really excited to be taking the next step in our International expansion, and are pleased to have such a great team on board in the Netherlands. We have been spending time talking to companies from different sectors within the Netherlands, and it's clear that our V-Person technology has a great role to play in meeting the challenges of multi-channel customer service and knowledge management for these organisations."
Creative Virtual Netherlands joins the company's growing network of offices and strategic partnerships across the globe. For information on how to contact the Dutch office, visit the Creative Virtual Contact page.