MyCyberTwin, a new generation of artificial intelligence technology, today announced the launch of its low cost Intelligent Virtual Agents (IVAs) to the small-medium business (SMB) and developer market. The latest product offering is designed for businesses to quickly and efficiently deploy state-of-the-art chat solutions across their web and social media properties. MyCyberTwin's IVAs offer SMBs the ability to answer customer questions instantly and accurately, decrease staff costs, increase sales and customer engagement, and find out what customers are really thinking by capturing the analytics of the interaction.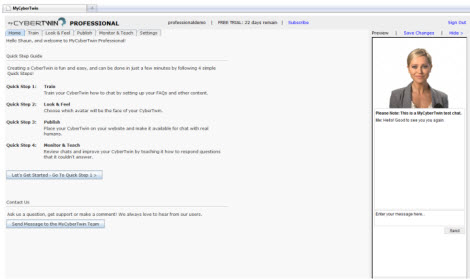 The easy-to-build 4 step DIY process for development allows website administrators to add an IVA to a company's web properties in a short amount of time. MyCyberTwin IVAs are self-learning and can be designed to answer specific questions or variations of questions. They can also be trained to recognize different ways a person may ask a question. If an IVA is presented a question it doesn't understand, it is designed to search the businesses website for the answer or encourage the user to enter another question.
"Up until now, high-end Virtual Agents have only been available to the privileged few. Our vision is to democratize the whole industry. Anyone, big or small, should be able to have virtual staff working for them. These are not junk FAQ engines with a face, but quality conversational AI's. This new offering is a simplified version of our enterprise platform, which handles millions of sales and support chats for Fortune 100 Companies, but with an easy-to- build process and extremely low cost. The market price for this technology has traditionally ranged from 25cents-$1.00 per chat, plus tens of thousands in service costs. MyCyberTwin is changing the entire model by offering a free pilot and then a starting price ranging from $25/month through a few hundred dollars per month pending the type of website and traffic flow. The best part is companies can now easily build and manage it themselves. We believe this is truly bringing 21st century engagement to the masses.
There are several core benefits SMBs will garner by building their own IVAs. The first gives businesses a platform to answer their customers' questions instantly and accurately, and provides the ability to capture significant intelligence for better understanding of customer thinking. MyCyberTwin IVAs are also a true engagement platform, available 24/7, and offer significant cost savings on customer service, with a proven track record of return-on-investment.

SMBs and developers are able to design their IVA 'avatars' to meet their unique specifications around look and brand feel. They are free to build and implement and have a tiered pricing model based on the number of chat engagements once launched.
"It is a tremendous accomplishment for us to advance our artificial intelligence technology and offer our IVAs to the SMB and developer market," said Dr. John Zakos, CIO. "We have long had a vision where businesses could quickly and easily be able to build and implement a sophisticated virtual agent. Analyst firms are predicting massive adoption of this technology in the coming years and we believe we are on the cusp of being a leading IVA provider. We envision exciting times ahead."