Creative Virtual, a leader in customer experience self-service solutions for global enterprises, announced the results of NIBC Direct's implementation of a virtual assistant powered by Creative Virtual's V-Person™ technology. NIBC Direct provides consumer banking services in the Netherlands, Germany and Belgium. Backed by a strong customer service policy that is highly focused on providing a superior customer experience, NIBC Direct selected Creative Virtual as their vendor of choice.
"We pride ourselves on providing superior customer service to our customers, but we needed a solution that could streamline our call centre operations while extending our service model online," says Sabine Struijk, NIBC Direct's Client Contact Manager. "With Creative Virtual, we found a full service, self-help solution that could answer customer questions around the clock, provide the ability for our agents to focus on higher end tasks and lower our operational costs without sacrificing quality. Moreover, unlike other vendors, we could program our virtual assistant to intelligently talk to our customers in Dutch using natural language."
After an extensive evaluation process of several vendors, NIBC selected Creative Virtual because of their advanced technology in virtual assistants, natural language and knowledge management. Once engaged, NIBC Direct was able to seamlessly integrate the technology into their own databases using Creative Virtual's V-Portal™ and launch their virtual assistant, 'Ask Sabine', in just under two months. Modelled after a real employee, 'Ask Sabine' held over 5,400 conversions in the first two weeks. Since the launch, NIBC Direct has routinely experienced 30% call deflection from their call centre.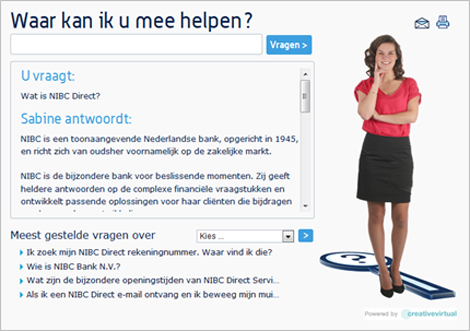 "NIBC Direct's virtual assistant implementation provides solid evidence as to how virtual assistants enhance customer service channels without compromising the experience," says Chris Ezekiel, Founder & CEO of Creative Virtual. "This is particularly important for financial institutions who have large contact volumes that span multiple channels and where instant 24/7 service is critical to growth and operational efficiency. Moreover, this launch showcases how virtual assistants can expand global footprints by providing an efficient way to provide native language support to customers worldwide."
NIBC Direct's virtual assistant can be accessed via the question boxes on every page of their website. To see the virtual assistant in action, visit NIBC Direct's website. For more information about 'Ask Sabine', download NIBC's Customer Success Story.
Creative Virtual Netherlands is also hosting a webinar in Dutch on Wednesday, 27th November 2013 to take a closer look at 'Ask Sabine' and the power of virtual assistant technology.