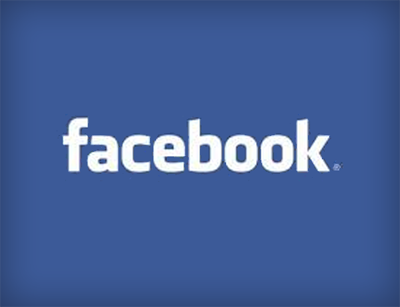 Projected to hit one billion users in 2012, Facebook has recently been reported as holding the number one social media position on the Internet. With so many people making the site a daily web stop, businesses are starting to see the benefits of using this platform to further their online customer service. Several Creative Virtual customers have taken this step by giving their V-Person™ systems a presence on their company Facebook pages.
Leading telecommunications company Verizon has included their automated customer support agent on the Verizon FiOS Support page. Facebook users are able to type their question in the box provided on the page and then click 'Ask' to open the V-Person and receive an answer to their query. O2 UK has also incorporated their online
Virtual Agent
'Ask Lucy' on the Just Ask tab of their Facebook page. Clicking the 'Ask Lucy' button launches the
Virtual Assistant
in the same way that Lucy is launched from the support pages on the O2 website.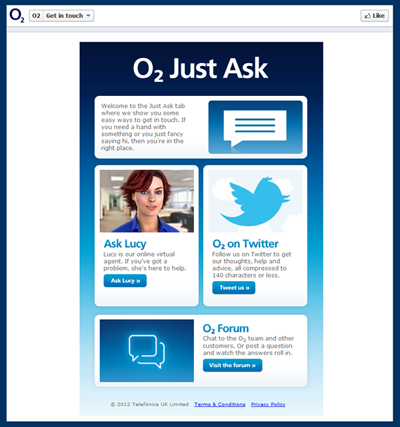 Creative Virtual and partners The Virtual Zone have collaborated to offer another option to businesses by developing a Virtual Agent Facebook application. This solution takes advantage of the interactive nature of Facebook by allowing users to chat with the V-Person without leaving the company Facebook page. This integration, currently deployed by The Virtual Zone for their Virtual Agent Paige as well as by National Rail Enquiries for their Virtual Assistant Lisa, means that companies can provide instant support for users while retaining them within their Facebook page. Users are able to type their questions, view the conversation and even 'like' answers given by the Virtual Assistant all in the same window. 'Liked' answers are then posted on the user's Facebook wall, with the option for a comment to be added, and linked back to the Virtual Assistant providing even more exposure for the company. Implementing a V-Person system in this manner is easy as the same knowledgebase from the web-based system is used in the new environment. Companies also gain the benefit of the additional insight into users, such as age, location and interests, which is not normally gathered by a Virtual Agent on a website.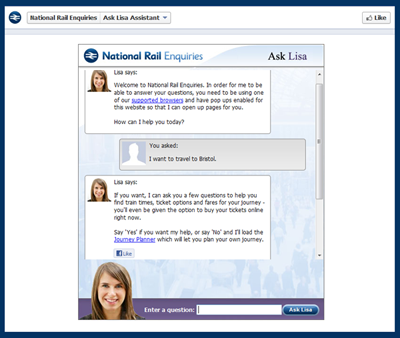 As Nick Wilson, Managing Director at The Virtual Zone, points out, "People that interact with you on your Facebook page aren't just people off the street, they are people you probably know and are connected to, which makes a huge difference." Many companies are missing this opportunity not only to extend their online customer service to Facebook fans and visitors, but to allow these people to share helpful answers with their Facebook friends with a simple click. Social media sites, such as Facebook, are continuing to grow in popularity and are connecting people in new ways. Adding Virtual Assistants on company Facebook pages is just one way for businesses to take advantage of this trend and meet the growing demand for instant customer service and support.
Related Chatbot:
Lisa