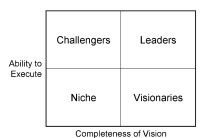 VirtuOz, the leading provider of intelligent virtual agents (IVAs) for online customer service, today announced that virtual assistants were a key criterion for determining for CRM Web Customer Service. In addition, the report ranks "new and additional customer access channels" as the number one business case driver for WCS deployments.
Released in September 2011,Magic Quadrant for CRM Web Customer Service, uses the following seven primary building blocks to determine Magic Quadrant leaders.
Knowledge for self-service
Email response management
Web chat
Collaborative browsing
Video services
Mobile customer service with SMS

"Today's digital-savvy customer is increasingly dictating when, where, and how they want to engage with a company, and businesses are responding by creating new and innovative online channels to create a high quality customer experience," said Steve L. Adams, CEO and president of VirtuOz. "IVAs offer a new, personalized customer engagement channel that delivers a high quality customer experience at one-tenth the cost of traditional channels. It's a winning proposition for both the consumer and the business. "
IVAs (also known as virtual assistants) provide a new online channel for customer engagement across marketing, sales, and support. IVAs are a digital persona providing convenient, timely, automated assistance by engaging in a personalized conversation with customers—responding quickly and accurately to their online requests, interactively guiding them to find information, and performing tasks on their behalf. Designed to be multi-channel aware, IVAs can also direct customers to an alternate channel, such as live chat or a contact center representative if they require human assistance. An IVA marries the knowledge and performance of a company's best sales, service, or marketing professional with the convenience and accessibility of self-service, to deliver the best possible customer experience.
Combining virtual agent applications, domain expertise, and best practice processes for agent deployment, VirtuOz is ideal for companies addressing their customers' needs for a superior customer experience while balancing their own need to keep operational costs in control.